English-Avesta Dictionary by K.E. Kanga
Many thanks to Soli Dastur for kindly contributing this rare and valuable work.

---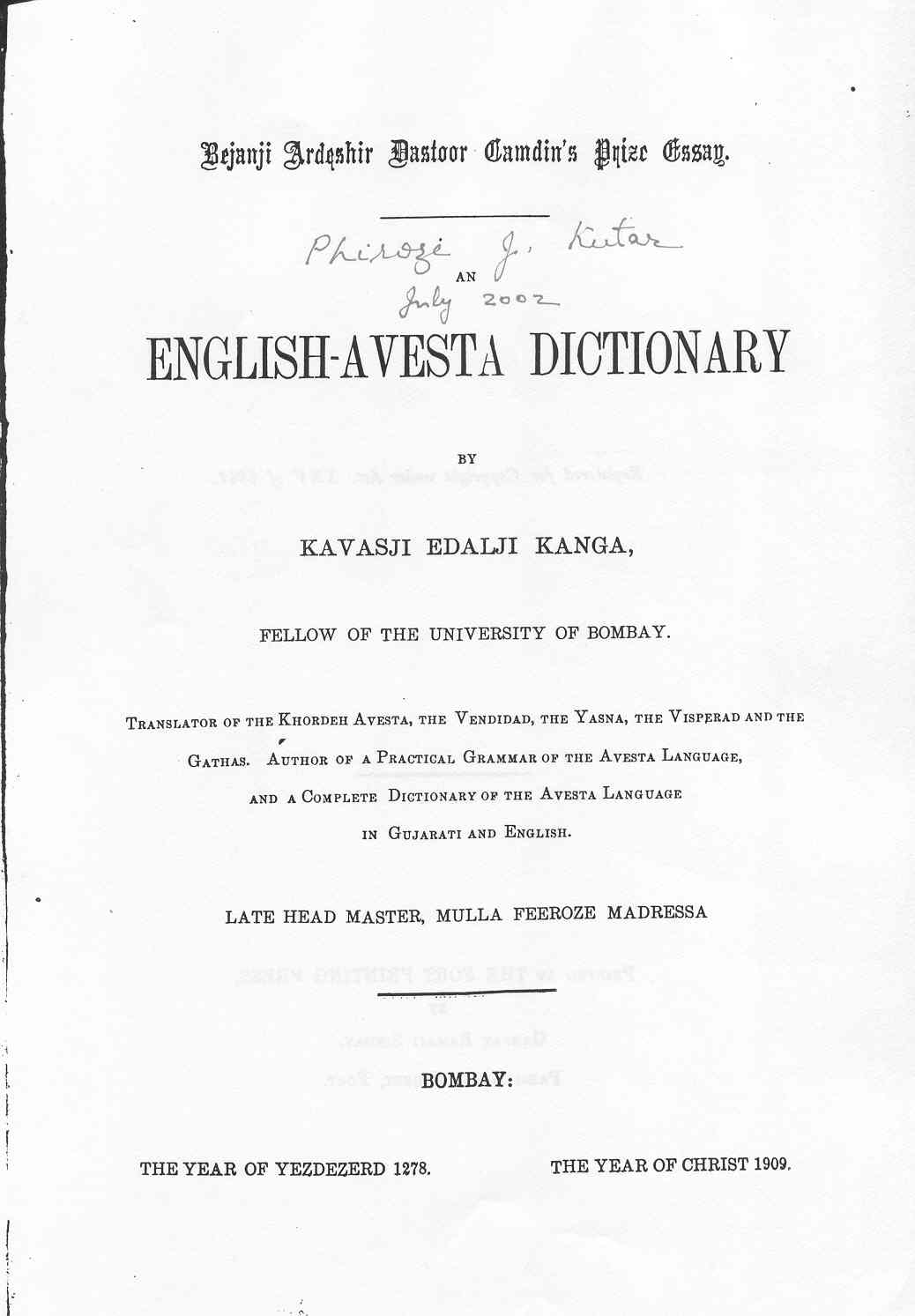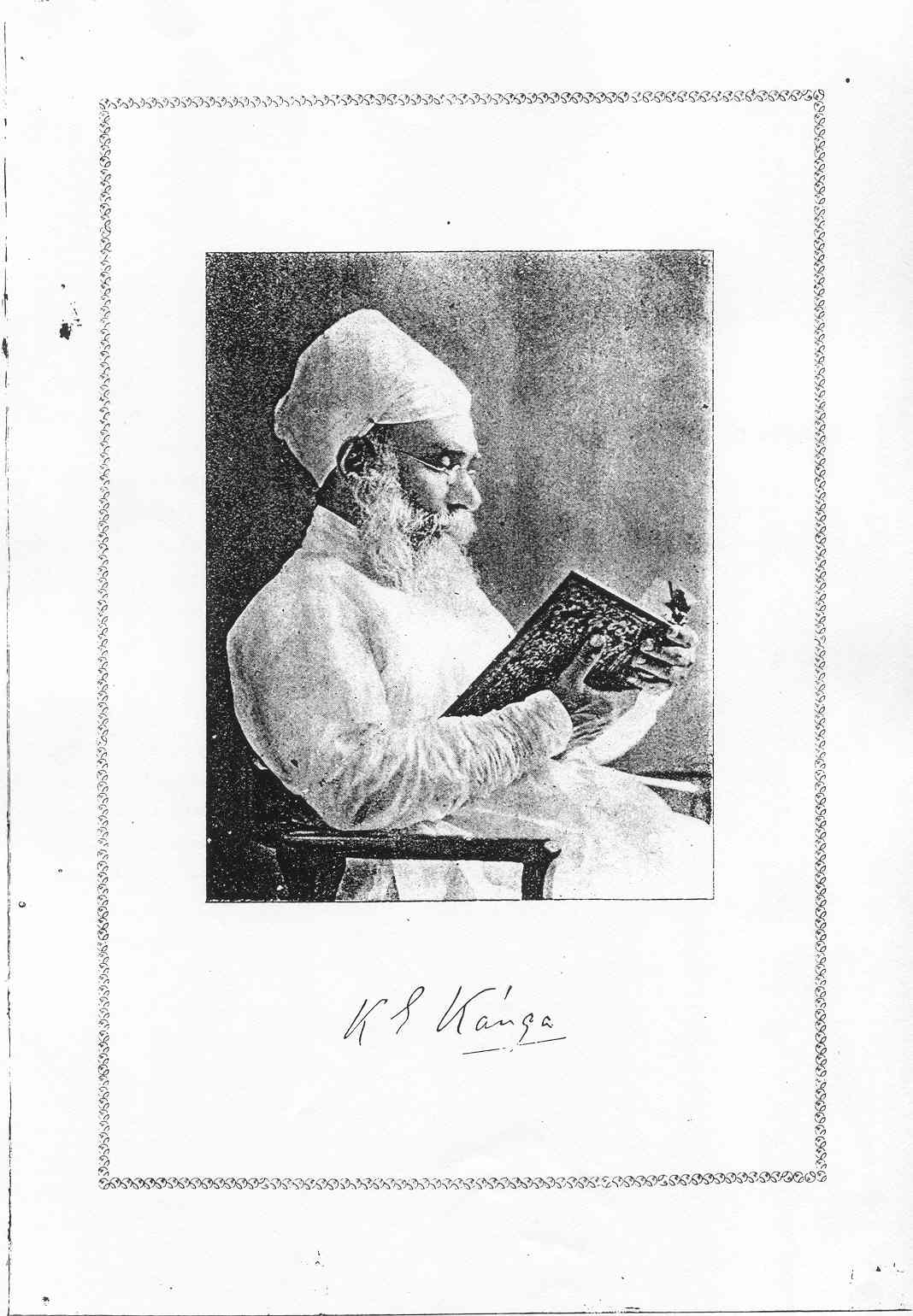 pvi - Biographical sketch of the late Mr. Kavasji Edalji Kanga.
---
A
Ab, L pref.
Aback
Aback (unexpectedly)
Abandon
Abandoning
Abash
Abashment
Abate
Abatement
Abdest
Abdomen
Abduct
Aberrent
Aberration
Abet
Abhor
Abhorrence
Abide (dwell)
Abiding (residing)
Abiding (permanent)
Ability
Abject
Abjectness, Abjection
Abjure
Abjuration
Ablaze
Able
Able: To be able
Ablution
Abnegate
Abnormal
Abode
Abolish
Abolition
Abominable
Abominate
Abortive
About
Above, adv
Above
Above (more than)
Abroad
Abrogate
Abscission
Absence
Absolute
Absolition
Absolve
Abstain
Abstract (summary)
Abridge
Abridgement
Abundance (affluence)
Abundance (large quantity)
Abundant
Abundantly
Abuse
Abyss
Accede
Accelerate
Accent
Accept
Acceptable
Acceptance, Accepting
Acceptor
Access
Accession (enlargement)
Accident
Accompany
Accompanied with
Accomplish
Accomplishing
Accomplished
Accomplishment
Accord, v.
Accord, subs
Accordance
According to
Accordingly
Account: On that account
Account: On account of
Account: For making account (of the good and evil deeds) of men
Accountant
Accoutred
Accumulate
Accumulation
Accusation
Accrue
Accurse
Accursed
Achieve: To be achieved
Achievement
Achill: The Persian Achilles, Asfandyâr, the most heroic of the sons of King Vishtasp
Acknowledge: To be acknowledged
Acknowledge: Acknowledge with due respect
Acknowledgement
Acme
Acquaint
Acquaint
Acquainted
Acquiesce
Acquiescense
Acquire
Acquirement, Acquisition, Acquiring
Acrimony
Across, prep.
Across (traversely)
Act, subs.
Act, v.
Acting
Action
Active
Active: To be active
Active: Making active
Activity
Actuate
Actor
Acute
Acuteness
Ad, L. pref.
Adage
Adamant
Adapt
Adapted
Adar (Yazata)
Adarbad
Addition
Addition: Intoned with additions (as verses)
Address (skill)
Address (discourse)
Address, v.
Address (in prayer)
Adept
Adequacy
Adequate
Adhere
Adherent
Adherence
Adhering to
Adhesion (attachment)
Adjoin
Adjudge, Adjudicate
Adjust
Adjusting
Adjustment
Adjutor
Admirable
Admirer
Administer
Admission
Admit (concede)
Admittance
Admonish
Admonisher, Admonitor
Admonition
Adopt
Adorable
Adoration
Adore
Adored
Adorer
Adorn
Adorned
Adornment
Adroit
Adroitness
Adult
Adultery
Advance (promote)
Advance (proceed)
Advance, subs.
Advancement
Advancing
Advantage
Advantageous
Adventure
Adventurous
Adverse
Adversary
Adversity
Advertise
Advertisement
Advice
Advise
Adze
Aerial space
Afar
Affair
Affable
Affection
Affection: To feel affection for
Affectionate
Affectionately
Affianced
Affinity
Affirm
Affirmation
Affix (fasten)
Affix (as a crime)
Affixed
Afflict
Affliction
Afflictive
Affluence
Affluent, adj.
Affluent, subs
Afford (be able to bear expenses)
Afford (give)
Affording
Affright, v.
Affright, subs.
Affront
Afoot
Afraid
Afrasyab (the Turanian King)
Afresh
After (according to)
After, prep.
After (behind, following)
Afternoon
Afterwards
Again
Against
Agape
Age
Age (old age)
Age: Of a tender age (as a boy or a girl)
Agency
Agent
Agglomerate
Agglomeration
Aggress
Aggressor
Aggressive
Aggrieve, Vide Afflict
Aghraeratha, (brother of Afrasyab)
Agile
Agile; To be agile
Agile: To make agile
Agility
Agitate (disturb)
Agony
Agree
Agreeable
Agreement (contract)
Agreement (conformity)
Agriculture
Agriculturist
Ague
Ah
Ahriman
Ahunavar [Ahunwar] (the mystic and well-known prayer)
Ahura
Aid, subs.
Aid, v.
Aiding
Ailment
Aim (mark)
Aim (view)
Aim at
Aiming, Vide Hitting.
Air (atmosphere)
Air (aspect)
Akhtya (the sorcerer)
Alack, Vide Alas.
Alarm
Alarm: To take alarm
Alas
Alborz, the Mount.
Alert
Alert
Alcoholic
Alias
Alien
Alienate
Align
Alike, pref.
Alike, adv.
Aliment
Alive
All
Ally (repress)
Allay (pacify)
Allege
Allegiance
Alley
Alleviate
Alliance
Allied
Alligator
Allocate, Allot
Allocation, Allotment
Allot: One who allots
Allow
Allure
Alluring
Allusion
Ally, v.
Ally, subs.
Alms
Aloe-wood
Alone
Along
Aloof
Also
Alter
Altercate
Altitude
Alvand, Mount
Always
Amalgamate
Amaranthine
Amass
Amaze
Amazement
Ambassador
Ambition
Ambitions
Ambignity
Ambo L. pref.
Ambrosia
Ambush, Ambuscade
Amelioration
Amen
Amends
Amends: To make amends
Amerdad [Amurdad]
Ameshaspand (Archangel)
Amicable
aAmity
Among, Amongst
Amount
Ample
Amplification
Amplitude
Amputate
Amusement
Amusing
Ana, Gr. pref.
Analogous
Anathematize
Ancient (of long duration)
Ancient (aged)
Ancestor
And
Andirons
Angel
Anger, v.
Anger, subs.
Angle
Angrily
Angry; To be angry
Anguish
Animal
Animals and men
Animal: Animal creation
Animate (incite)
Animate, adj.
Animated
Animosity
Ankle, Ankle-bone
Anklet
Annex
Annex lengthwise
Annihilate
Annihilate: To be annihilated
Annihilation, Annihilating
Announce
Announcement
Annoy
Annoyer
Annoyance
Annual, Annually
Annul
Anomalous
Anon
Another
Answer (of good beings), v. Vide Reply.
Answer (of evil beings)
Answer, v.
Answer, subs.
Ant
Ant-hill
Antagonist
Antagonism
Antecedent
Ante-demoniac
Anterior
Anti, Gr. pref.
Anthem
Anticipative
Anticipate
Antipathy
Antique
Anus
Anxiety
Anxious
Anxious; To make (a person) anxious or greatly concerned
Any, Anyone
Anyhow
Anywhere
Apace
Apart, adv.
Apart from, prep.
Apartment
Apathetic
Apex
Apiveh (son of Kaikobad)
Aphorism
Apo, Gr. pref.
Apollo: Zoroastrian Apollo
Apology
Apostate
Apostle
Appal
Appaling
Appalment
Apparel, Vide Garment.
Apparent
Apparentness
Apparition
Appeal, v.
Appeal, subs.
Appear (seem)
Appear (come forth)
Appearance
Appearing (visible)
Appease
Appeased
Appeasement
Appeasing
Appelation
Append
Appertaining
Applaud
Applause
Apple
Applicant
Application
Apply
Appoint
Appointed
Appointment
Apportion
Apportionment
Apposite
Appreciate
Apprehend
Apprehension (seizing)
Apprehension (anxiety)
Apprise
Apprised
Approach
Approach towards, v.
Approach, subs.
Approbation
Approbation: To receive with approbation
Appropriate
Approval
Approve
Apt
Aquatic
Aqueduct
Aquiesce [Acquiesce]
Arable
Arbalist
Arbiter
Arbitrament
Arbitrary
Arbitrate
Arbirator
Arborial
Arch (bow)
Archangel
Archdemon
Archer
Architect
Ardent
Ardently
Ardibehesht [Ardwahisht] (archangel)
Ardibehesht [Ardwahisht] (the second month of the year)
Ardibehesht [Ardwahisht] (the third day of every month)
Ardour
Arduous
Arena
Argentine
Argument
Arid
Aridity, Aridness
Aright
Arise (rise up)
Arise (to be produced)
Aristocracy
Arjasp, (The Turanian King)
Arm (limb of the body)
Arm (A measure of about 36 inches)
Arm: (a stone) flung from the arm
Arm (weapon)
Arm (strengthen)
Armed
Armstring
Armour (cuirass)
Armpit
Army
Army: The front row of the army
Army: Smiting the rows of the army
Arnavâz (a daughter of Jamshed)
Aroma
Around
Arouse
Arraignment
Arrange
Arrangement
Arranging
Array (the lines of an army)
Arrest (detension)
Arrest (stay)
Arrest (seize)
Arrest (secure)
Arrive
Arrival, Arriving
Arrogance
Arrogant
Arrow
Arrow: To force out (an arrow) with a whizzing sound
Art
Artful
Artfulness
Artless
Artlessness
Articulate
Articulation
Articulation (Joint)
Artifice
Artificer, Artist
Artisan
Arya
Aryan
As
As before
As before (used in compounds)
As long as
As many
As much
As much as
As it were
As well
As well as
Ascend
Ascendency
Ascent
Ascertain
Ascribe
Asfandyar (the most heroic of the sons of King Gushtasp)
Ashes
Ashem Vohu (the antique prayer)
Ashtad (yazata)
Aside
Ask
Ask about
Ask again
Ask for
Ask ernestly
Asked
Asking
Asleep
Asmodeus
Aspandarmad [Spandarmad[ (archangel)
Aspect
Asperity
Asperse
Asperser
Aspersion
Aspire
Aspirant, Aspirer
Aspiration
Aspiring
Ass
Assail
Assailant
Assassin
Assassinate
Assault, subs.
Assault, v.
Assemble
Assemblage
Assembler
Assembly
Assent, subs.
Assent, v.
Assenting
Assert
Assertion
Assertive
Asseverate
Asseveration
Assiduity
Assiduous
Assidousness, Vide Assiduity
Assign
Assignment
Assist
Assistance
Assistant
Assisting
Associate, subs.
Associate, v.
Association
Assuage
Assuming (haughty)
Assurance
Assure
Assuredly
Assuredness
Astir
Astonishment
Astonishing
Astound
Astounding
Astray: Go astray
Astute
Astuteness
Asunder
At
At last
At once
Atarvakshi (a priestly order)
Athwart
Athwyan (Father of King Faridoon)
Atmosphere
Atone
Atone for (a crime) thoroughly
Atoned for
Atonement
Atoning
Atrocious
Attach to
Attached to
Attachment
Attack, subs.
Atack, v
Attack suddenly or unawares
Attacking
Attain
Attainment
Attempt, subs.
Attempt, v.
Attend (follow)
Attend to
Attend (take care)
Attention
Attentive
Attenuate
Attenuated
Attest
Attire, v.
Attire, subs. Vide Garment
Attract
Attracting
Attribute, subs.
Attribute, v.
Auburn
Audacious
Audaciousness, Audacity
Audible
Audience, Auditory
Audition
Auditory. Auditory sense
Audit
Auditor
Aught
Augment, subs.
Augment, v.
Augmentation
August
Aunt: A paternal or maternal aunt
Aureate
Aurora
Auspice
Auspicious
Austere
Austral
Authenticity
Author (creator)
Authoritative
Authority
Authority: to exercise authority
Authorize
Auto, Gr. Pref.
Autocrat
Autocracy
Autocratic
Auxiliary, adj.
Auxiliary, subs.
Avail. subs.
Avail (oneself) of
Avarice
Avaricious
Avaunt: Say avaunt
Avenge
Avenger
Avenging
Avenue
Aver
Average
Averment
Averse
Aversion
Aversion: To have aversion to
Avert
Avesta commentary
Avian
Avid
Avoid
Avouch, Avow
Avowal, avouchment
Await
Awake, v. intr.
Awake, v. tr.
Awake, adj.
Awaked
Awaken
Awakening, subs.
Awaking from sleep
Award, v.
Award,
subs.